Jim and Kelly enjoy a busy family life. With two active children, two energetic dogs and plenty of family living close-by, life was never quiet. So, when they started planning their new dream home in rural Kent, simplicity and centralised control was paramount.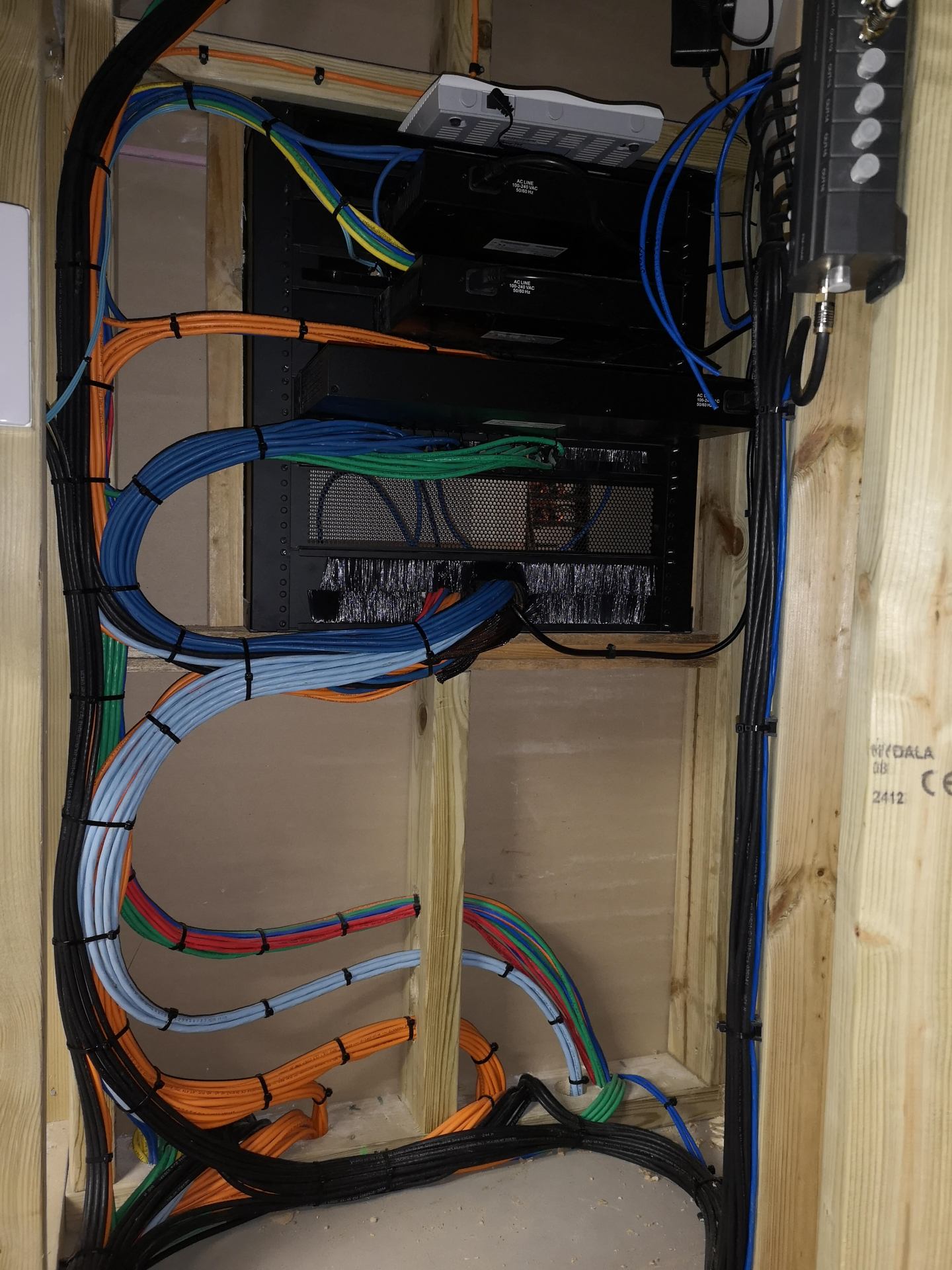 I was forever following the kids around, turning off lights and TVs in different rooms, and we were fed up with the plethora of remote controls for TVs and stereos which would disappear just when you needed them. The house was cluttered with things plugged in all over the place and unsightly wires trailing here and there, so we were keen that our new home could make life simpler and solve these problems for us.
I have a friend whose home is run using Crestron, and who Ollie from Sonitus has done some work for in the past. We were talking together about our plans for the new house and she told me "You need an Ollie!" We'd already spoken to another company, but to be honest the guy didn't have the human touch and we didn't feel a connection to him. As soon as we met Ollie I could tell he was normal, like us. He was approachable and easy to talk to, he listened and seemed to understand immediately what we wanted. He didn't blind us with loads of technical jargon which would have confused us and put us off.
When we started the project, all I had in mind was that I wanted beautiful lights, ceiling speakers and a TV system. Guided by the guys from Sonitus, we realised that there was so much more which could be possible. Until then, we never understood that everything could be centralised onto one system, or that we could include the outside lights, CCTV, alarm, heating, gates and pool house into it. The project has grown, but in a good way; without Sonitus we may well have ended up with a disjointed set of systems, with loads of different apps on different devices which would have been confusing and so disappointing. Now we are so happy because everything runs from one place – Justyn has even managed to programme the electric fireplace in our bedroom to run from the system.
One of the biggest problems we faced was the budget. We didn't have a never-ending bottomless pit of cash to spend, and the guys from Sonitus understood this. They tailored the system to fit our needs and were able to find suitable, more economical work arounds and solutions without cutting corners or reducing the overall quality of the workmanship or the system. They kept us grounded too; despite the budget it would have been easy to get carried away, but Sonitus kept us well informed, in a way we could understand, all the way thought the project which for a techy company I think is unusual and refreshing.
Sonitus also took on the full electrical installation, which was a real bonus as it helped to keep the costs down and reduce the number of trades we needed to work with. The power needed for the house and pool required a new three-phase connection which Justyn co-ordinated with UK Power Networks to plan and install. By taking responsibility for every wire and cable in the property, Sonitus have given us the peace of mind
that our system is connected properly and nothing has fallen down any cracks between different electrical and smart home trades.
Life is so different now. Because I have the Sonitus Crestron app on my iPad and on several touchscreens around the house, I can see straight away if lights or TV's have been left on in rooms which aren't being used, and I can turn them off without stopping what I'm doing. I can also turn down the volume on the kids TVs if I can hear it from the kitchen (or even the garden!) One of my absolute favourite things is to play with the lighting scenes. I just love that I can adjust them from the iPad to suit the mood of the room, without getting up from the sofa, and it's a real bonus to have such a huge amount of control over setting and adjusting the scenes so I can use them again.
The automated lighting in the house, and outside, looks beautiful too. We've got these low-level lights which come on in the hallway, landing and stairs if they sense someone moving about. The really clever thing is that in the evening they can come on at full brightness, but in the middle of the night they only come on at about 5% brightness, just enough to make sure I don't trip over the cat. Outside we have a row of apple trees with subtle up-lights which look really stunning of an evening, and warm LED strip in the apex of the roof which really adds definition to the profile of the house.
Something that gives real peace of mind is that I can switch the TV in the kitchen to monitor the CCTV cameras over-looking the pool. The children are great swimmers and this way they can feel they have some freedom, but I can still keep an eye on them – I think that's a really important safety feature.
To be able to command the whole house from the sofa is amazing – the power in my hands is immense! But the key thing is that it's so easy. The app on the iPad and the touchscreens is so intuitive, and user friendly… Press this for lights, and this for TV. We can even change the temperature setting for each room with just a click. We understood it straight away, I'd say within a day of moving in… of course, the children found it even easier, but they're not using the settings such as heating controls.
The kitchen is my favourite part of the house. It is divided into three zones, the dining area, the snug and the kitchen itself. I love changing all the lights depending on who we're using the room with and the mood of the occasion – brightly lit for evening family cooking or lower and more subtle for a dinner party or evening meal. We can have both TVs on with synchronised sound, and having the bifold doors open onto the garden with music playing on the patio and indoors at the same time is amazing, it gives the sound a real depth and quality so even when it is turned down low we can still hear every word or note.
My recommendation to anyone considering incorporating smart home technologies into their home is "Just do it"! Why build a house and have things plugged in everywhere? Don't cut corners and end up with masses of ugly light switches or dimmers, when you can have control on your iPad or iPhone, or with beautiful keypads which can do so much more than just turn on a light. Why would you want to do that to your walls? We've got sensors instead of those horrid pully light switches in the bathrooms which go brown at the end – I'd never go back. Definitely get the low-level lighting which comes on when you walk into the house, like the bathrooms, it runs from sensors and can be automated to take sunrise and sunset times into account. How cool is that! And definitely work with Sonitus, the guys are so approachable, friendly and knowledgeable, I'd give them ten out of ten.